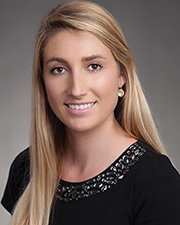 Portland, ME Katie Exchange, of Boston Financial Management (BFM), has obtained the designation of Certified Financial Planner (CFP). CFP certification is a rigorous process consisting of course work and examination in the areas of financial planning, risk management, investment, tax planning and management, retirement and employee benefits, and estate planning. In addition, the designation also asks CFP professionals to meet ongoing continuing education requirements and uphold the CFP board's code of ethics and professional responsibility.
As a result of Exchange's new certification and ongoing excellent work, she will take on a new role as associate wealth manager in BFM's new downtown location. Together with managing director and wealth manager Abby Psyhogeos, Exchange assisted in establishing the new office in the Thomas Block at 100 Commercial St., which opened its doors in January.
The city's BFM office provides investment management and wealth management services for high net-worth families in Maine and Northern New England.