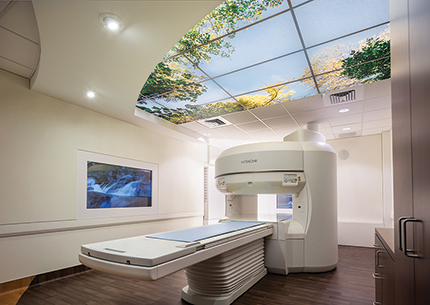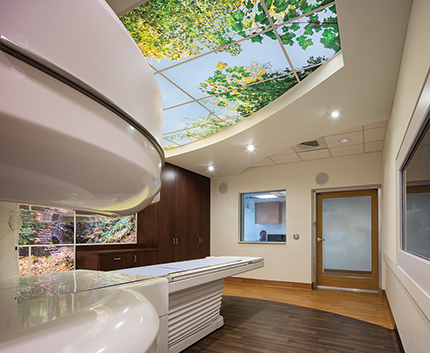 Chelsea, MA G. Greene Construction completed a fit-out for a new Hitachi Open-MRI at the MGH Chelsea Imaging Clinic. This new MRI (first in the Partners Healthcare Network) has an 'open-bore' that patients pass through, as opposed to the more classic closed tighter-bore of conventional MRIs. The Open-MRI works well to help eliminate the tension and anxiety generated by claustrophobia that patients sometimes feel before and during the scan. The new ambient lighting (with a regional view of the outdoors) adds a therapeutic element, bringing comfort to the patient during the scanning sessions.
This highly complex project also included installation of mini-piles to provide additional structural support to the existing slab, and a new more effective RF-shielding system that created more space within the room. Additionally, there were major MEP upgrades required throughout the first floor to support the Open MRI.
The project was completed in a fully operational outpatient and mixed-use building, adjacent to a functioning CT scanner control room. Coordination and communication with Scott Langton, construction manager of Mass. General Hospital and the facility's staff was imperative to schedule shutdowns, reduce noise and keep the departments in the clinic operational with limited disruptions.
This project spearheaded by Ahin Handa, senior architect of MGH worked in a collaborative effort with Andrea Seward, senior project manager and John Galvin, project superintendent of GGC along with Jen Lin of Linea 5, to ensure a successful project.