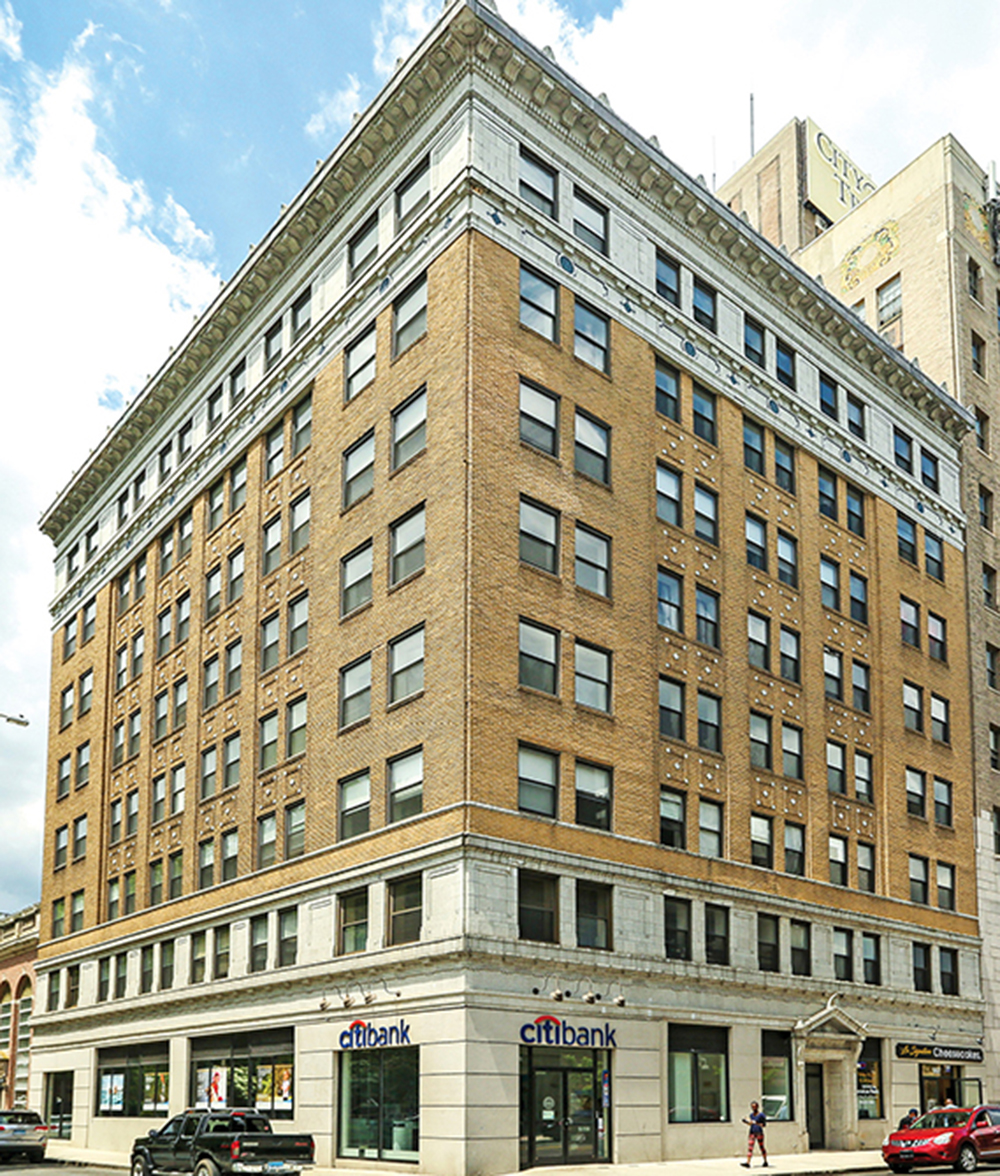 Bridgeport, CT Holliday Fenoglio Fowler, L.P. (HFF) completed the $21.7 million sale of three mixed-use properties totaling 176 apartments and 100,000 s/f of high-street retail and office space in downtown, to New York-based real estate firm, Time Equities Inc. (TEI).
The HFF team marketed the property exclusively on behalf of the seller, Ginsburg Development Cos., and procured the buyer, TEI.
The portfolio comprises three restored early 20th century buildings, including the City Trust Building. The properties are walkable to downtown's various shops, museums and restaurants, as well as, the Bridgeport Transportation Center. In addition, the portfolio is less than one mile from the two million s/f Steelpoint Harbor mixed-use development and I-95 (Connecticut Tpke.), which provides access to the New York and Boston metropolitan areas. The three properties are:
• City Trust (955 Main St.) is an 11-story building consists of 135,544 s/f. The building is made up of 117 apartments and 43,222 s/f of retail space. Retail tenants at the City Trust building include Citibank and 4 Corner Billiards.
• Arcade Mall (1001 Main St.) is a 4-story building consists of 52,355 s/f. The building is made up of 23 apartments and 32,046 s/f of retail space. Retail tenants at the Arcade building include Artstock, Burger Joint, and Boys and Girls Village.
• Golden Hill (144 Golden Hill St.) is an 8-story building consists of 51,194 s/f. The building is made up of 36 apartments and 22,751 s/f of retail space.
The HFF investment advisory team representing the seller included Stephen Simonelli, Jose Cruz, Michael Oliver, Kevin O'Hearn, Steven Rutman and JB Bruno, along with Dana Brome. The TEI acquisition and asset management team led by Max Pastor and Brian Soto spearheaded the transaction for TEI.
"We are enthusiastic about this opportunity to add to our expanding Bridgeport portfolio and look forward to making strategic improvements to the vacant spaces and other portions of our new acquisitions. We plan to leverage our investment and repositioning expertise to add to the vibrancy of the downtown area, while continuing to recognize the importance of keeping future plans consistent with Bridgeport's historical and existing characteristics," said Max Pastor, director of acquisitions and senior counsel at TEI. "Bridgeport is well located and has three attributes that we believe are ripe for long-term success: transportation, availability and a multi-faceted favorable economic environment. We anticipate that the unique vacant spaces in our newly acquired portfolio, both in the Arcade and City Trust tower, are canvasses for Bridgeport's future entrepreneurs."
"We are excited about the opportunity to expand upon the work of previous ownership and improve the properties by activating the vacant retail spaces, providing a more complete mixed-use development for our residents as well as the entire Bridgeport community," said Brian Soto, director of acquisitions and asset management at Time Equities.
"Downtown Bridgeport is undergoing a dynamic revitalization," said Simonelli. "The premier downtown location, along with the scale and upside potential made this a very attractive investment for Time Equities."