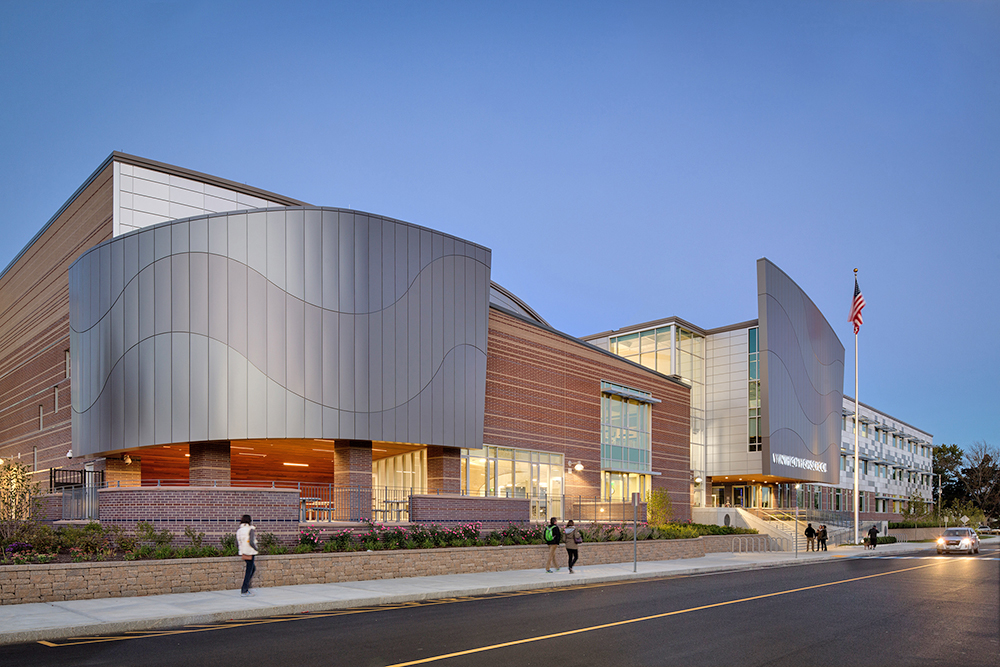 Winthrop, MA A combined middle school and high school designed by HMFH Architects for the town of Winthrop was awarded LEED Gold certification by the U.S. Green Building Council.
One of the challenges for the design team was creating not only a sustainable design but also a high level of resiliency to mitigate the risk of rising ocean waters. The 189,500 s/f school was built a few blocks from the Atlantic Ocean, and a few hundred yards from a tidal marsh. The design solution included raising the entire building above the flood plain, utilizing materials reclaimed from the demolition of the old high school to provide structural support.
Sustainable design was a leading priority for the town and its state funding partner, the Massachusetts School Building Authority, which pledged additional funding for the school's construction if the project achieved a LEED Silver certification or higher.
"We're very excited to have achieved LEED Gold certification on our new Middle High School. Through smart budgeting and planning, and guidance from our team of HMFH, Skanska and Gilbane, we surpassed the goal of LEED Silver to earn Gold," said David Girard, the design and construction subcommittee chair of the Winthrop School Building Assistance Committee. "It is a benefit to our community that the project team was able to balance the limitations of the budget and schedule and achieve a beautiful, environmentally-friendly learning space for our children."
HMFH's design includes multiple sustainable design components such as:
• An energy-saving displacement ventilation system that reduces the need for a fully air-conditioned building by reducing humidity.
• High-efficiency LED lighting paired with a daylight dimming system and large classroom windows providing abundant natural light.
• Triple-pane windows and additional roof insulation to reduce energy consumption and provide added acoustical separation from the close-by take-off and landing paths for Boston's Logan International Airport.
"This project had an extremely tight budget, and our team committed to being as inventive as possible to attain LEED Gold certification without adding money into the budget," said Tina Stanislaski, AIA, principal with HMFH Architects. "Students and faculty not only benefit from a dynamic variety of learning and teaching spaces, they also experience a healthy, environmentally sound school that will contribute to productivity and wellness for generations to come."
Since 1969, HMFH Architects has built opportunities for learning on a local, regional, and national level. With its distinguished range of award-winning work from renovated urban buildings to new rural campuses, HMFH is recognized as a leader in the design of innovative academic environments. HMFH's work, noted for its user-centered design and energetic use of color, has been exhibited nationally.