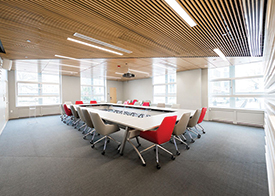 Boston, MA Kaplan Construction has completed renovations at Northeastern University. This marks Kaplan's ninth project for Northeastern Univ.
"We approached this project with the needs of the school as a top priority. Academic institutions face unique challenges during construction, particularly when it comes to accommodating student schedules," said Nate Peck, president of Kaplan Construction. "We are proud to have delivered this fast-tracked renovation project on time and with minimal disruption."
Kaplan reconfigured the Office of Student Orientation and Frost Lounge at Ell Hall on the school's Boston campus. The 2,000 s/f renovation, designed by Dyer Brown, was commissioned to increase the lounge's existing footprint and provide a central reception area surrounded by private offices for student orientation. The entire space was refreshed with the installation of all new mechanical and electrical systems as well as new lighting, interior finishes, windows, glass walls and doors, wood ceilings, flooring, and millwork. RDK Engineers provided mechanical and electrical engineering services.