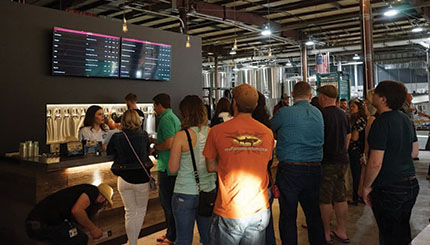 Norwood, MA Kaplan Construction completed an expansion to Castle Island Brewing Company, doubling its production capacity and adding a taproom. Located at 31 Astor Ave., the craft brewery first opened to the public in December of 2015.
Kaplan expanded the production area with a supplemental structural slab to support up to 14 additional fermentation tanks, which would increase brewing capacity to over 40,000 barrels annually. A taproom with a bar and televisions was added, and existing bathrooms received cosmetic and ADA accessibility upgrades. Additionally, Kaplan upgraded the informal merchandise area to create a dedicated display and retail area.
Kaplan worked with Red Barn Architecture on this recent expansion project.
"We've always had a desire to build a taproom inside the brewery where the beer is made – it's a great brand builder and an excellent way for craft beer drinkers to better connect with the brewery," said Adam Romanow, owner of Castle Island Brewing Company. "We have also been growing rapidly, and to ensure we have the ability to continue to do so we created future capacity and quick-scalability to ease whatever growing pains lie ahead. We established a strong relationship withKaplan when we worked together for the initial build-out of our brew house, and we were thrilled to work with them again. Kaplan's highly experienced staff and detailed planning resulted in a successful, cost-effective, and well-built project."
In 2015, Kaplan transformed an existing warehouse and completed the mechanical infrastructure necessary to support the craft brewery's highly specialized equipment, including a reinforced floor system with a urethane floor coating to support the stainless steel tanks that can each weigh up to 28,000 pounds when full. The project was successfully fast-tracked so that brewing could commence before Thanksgiving.