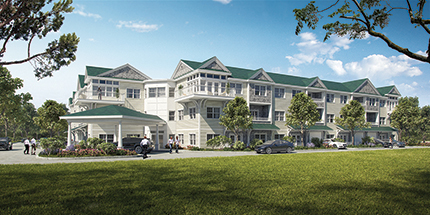 Bethel, ME KW Commercial Realtors, the commercial division at Keller Williams Coastal Realty is working alongside THA Architects to revitalize the long-dormant Bethel Station development into a residential, retail and food service condominium project. The Residences at Bethel Station will serve as a catalyst for the revitalization of this region's historic town village center. Supported by the expected expansion of Maine's passenger train service to Montreal, the KW Commercial team is very enthusiastic about working with the experienced firm of THA Architects in the Transit Oriented Development (TOD) of this unique location.
In addition to THA Architects, Walsh Engineering Associates is the engineer permitting the site, while THA Architects is providing design build services for 40 residential units and a pad site for a brewpub and retail store. Environmental and geo-technical services were provided by Credere Associates and survey services by Nadeau Land Surveys.
"We are very excited to be doing this work in Bethel," said Tony Donovan, Realtor and development sponsor of The Residences at Bethel Station. "We know that this location in the ski-resort and outdoor recreation region of western Maine is going to attract a wide range of residents and investors who will take advantage of the potential for passenger train service between Boston and Montreal."
The Residences at Bethel Station is on a 7.5-acre site at the crossroads of state roads to New Hampshire and Montreal, serving as the main route for business along the Northern New England-Canadian border states. The "Residences" 40-unit residential condominium development is walking distance from downtown and across the street from the restored GEM Theater.
Ideally located in the shadows of the western mountains and along the banks of the famous Androscoggin River, Bethel is quintessential New England. Its downtown village is quaint and charming with its locally-owned shops, theater, museums and restaurants – all within walking distance of each other. The historic Bethel Inn is in the village, as is the world recognized Gould Academy, a small, academically rigorous New England private college prep boarding school. State Rtes. 26, 2 and 5 all intersect at Bethel Station. This unique location is a hub of crossroads for the northern region of Maine, New Hampshire; and Canada. For a few years in the 1990s a tourist ski train operated between Portland and Bethel.
The absolute unique feature of this property is that Bethel Station was first developed as a retail, residential and commercial TOD in support of expected arrival of the Montreal to Boston passenger trains. The development includes public water, sewer, street lighting, sidewalks, curb cuts and storm water retention systems.
This 25-acre subdivision consists of the train station, currently occupied by the Bethel Chamber of Commerce, a 400' train platform – the only Amtrak serviceable platform between Portland and Canada; a three-screen cinema theater with retail, and professional office space, the "Class A" Norway Savings Bank office building, and a mix of residential and commercial uses, including a proposed bowling alley.
The Residences at Bethel Station will be located on "Lot I", one of two remaining undeveloped sites in the Bethel Station development. Recently one of the lots was sold to a party with expectations of attracting a national-name grocery store.
The Residences at Bethel Station will include acres of on-site preserved open space land with trails. Area recreational amenities such as fishing, boating, golf and hiking, are part of the nationally renowned Sunday River ski and golfing four-season resort. The Residences at Bethel Station plans include 40 condominium units in a three-story professionally managed complex with fitness center/community room, personalized storage for biking, skiing and fishing gear, outdoor open space connecting to over 1,500 acres of managed trails, parking, solar array, EV charging stations along with an environmentally sustainable design. Most units are two-bedroom, with six of the ground floor homes having attached garages.
THA principal Tom House said "The Residences at Bethel initiative gives consumers a simplified, satisfying, and affordable condominium living experience in the highly desirable location of downtown Bethel, Maine, complete with countless amenities." Local business owners, and the local chamber of commerce have shared their support for this TOD and the opportunity for continued economic opportunities' it brings to the region.