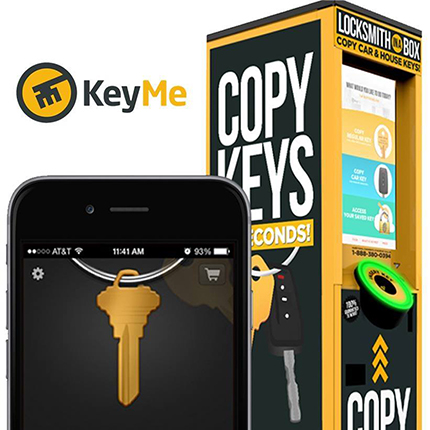 Boston, MA KeyMe, the company that is revolutionizing the locksmith industry, plans a new, aggressive round of national expansion that will see the company's key copy kiosks added to more than 50 locations per week, with plans to have over 2,000 in leading retailers by the end of 2017. KeyMe kiosks can be found in retailers across the U.S., including: 7-Eleven, Albertsons, Bed, Bath & Beyond, Kmart/Sears. and Rite Aid.
Cities that will see a major increase in KeyMe kiosks include New York, Los Angeles, San Francisco, Philadelphia and San Diego. Many new cities will have access to KeyMe kiosks for the first time in 2017 including Atlanta, Houston, Tampa-St. Petersburg, Phoenix, Detroit, Seattle-Tacoma, Miami-Ft. Lauderdale, Denver, Cleveland-Akron (Canton), Pittsburgh and Portland. All kiosks are manufactured in the U.S. and the company has grown from 15 employees to over 90.
The company has secured $70 million in total funding, including a $25 million round of funding led by Benefit Street Partners (BSP), an affiliate of Providence Equity Partners. This follows a $15 million Series C round of funding in September 2016 led by QuestMark Partners and a $20 million Series B round of funding in December 2015 led by Comcast Ventures.
With this national expansion, these "3rd generation" kiosks will feature the latest technology, enabling consumers to copy virtually any type of key, key fob, car key (including transponder keys) and other recreational vehicles. Typical brass keys copied at a kiosk start at $2.99 depending on the key type, and KeyMe also offers custom designed keys (sports teams, movie characters, bottle opener, etc.) at a slightly higher price. Prices start at $19.99 for non-transponder car keys and range from $69.99 - $89.99 for "fob" and transponder keys.
"KeyMe will make millions of keys in 2017, as tremendous consumer and retailer demand is driving the deployment of hundreds of new kiosks," said Greg Marsh, CEO of KeyMe. "We are on the forefront of the industry, utilizing the latest technology in our next-gen kiosks, allowing us to provide an even better and more seamless experience for the consumer than ever before."
How it Works:
The KeyMe kiosks allow users to instantly make copies of their keys. It enables consumers to securely store digital copies of their keys so that if they ever get locked out or lose their keys, they can make a spare key at the kiosk, saving hundreds of dollars that would ordinarily be spent on an emergency locksmith visit. Customers can use KeyMe's free iOS and Android apps to save their keys in the cloud, creating a seamless multi-platform experience. Key storage is completely free and users can save and store as many keys as they like.
Once a key is successfully scanned and stored, users can easily share they key with family or friends via SMS or email using the kiosk or mobile app. Customers simply access the key they wish to share on their "digital keychain" and tap the "share" button. They will be prompted to submit the recipient's email address or telephone number and KeyMe will send an email confirmation upon sharing a key and another email when the recipient has accepted the key.
Automotive Support:
The KeyMe kiosk is the first and only kiosk with the ability to support approximately 85% of all automotive keys on the market, including modern "fob" automotive keys. Consumers have historically been forced to go to a dealer for such keys and often pay hundreds of dollars, now they're able to obtain a key at a fraction of the cost. This technology enables KeyMe to scan car keys at the kiosk, read the transponder, and ship a fully programmed copy with a shipment tracking code in under two days. KeyMe can also replicate keys for watercraft, recreational, and commercial vehicles.
Accurate and Secure:
In addition to convenience, KeyMe's advanced robotics and artificial intelligence technology produces key copies that are more accurate than the originals, whereas traditional key duplication services have 15-20% error rates as a result of their "tracing" methodology. Customers can also use KeyMe's free, downloadable mobile app to safely scan and save a digital copy from anywhere, and either mail order copies to their door or print a copy at any KeyMe kiosk.
KeyMe has introduced new measures of security and control into key duplication and lockouts, services historically fraught with scams and unscrupulous emergency locksmiths. KeyMe provides accountability across the entire customer experience. For every key made, there exists a detailed transaction history, financial paper trail and fingerprint encryption at login. KeyMe provides a "closed loop" security trail with its technology.
A full list of kiosk locations can be seen at www.key.me/kiosks