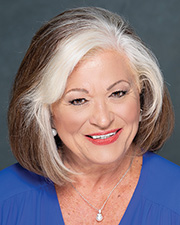 Branford, CT The Geenty Group, Realtors has hired Cheryl Morris as the newest member of its sales force. Morris has been a licensed real estate agent for 20 years with a track record of buying and selling residential properties to and for private investors. Morris has kicked off her commercial real estate career at full speed, representing two investment property landlords, marketing properties for sale and is also hard at work for tenants in the area.
Morris brings a unique skill set, a wealth of experience and a record of success earned over a career in both the public and private sectors to her new endeavor in commercial real estate.
Previously, Morris served the town of Branford as first selectman. During her administration, Morris successfully navigated challenging situations and negotiated numerous contracts for the town as well as the purchase of properties for municipal use. As such, she is very knowledgeable about the inner workings of town and state governments including zoning, boards, commissions and agencies and the roles they play in real estate development. As a private citizen, Morris has continued her commitment to civic duty through volunteer work.
Prior to her election as first selectman, Morris enjoyed a successful, multi-faceted career in management with AT&T, achieving a high level of experience in sales, customer service, credit management, marketing and finance. Her strong interpersonal, negotiation, problem solving and analytical skills were recognized through several awards for outstanding sales achievement and exceptional customer service.