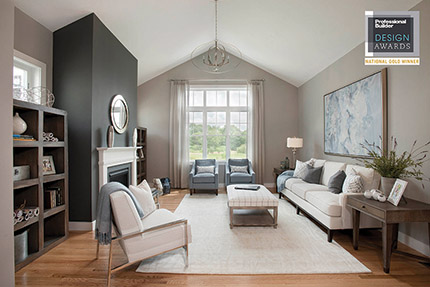 Weymouth, MA Northland Residential, the developer of Dorset Park, a neighborhood of 26 single-family homes located in the master-planned community of Union Point in Weymouth, was named a winner in the 2017 Professional Builder Design Awards contest, which recognizes the nation's top home building projects for design excellence, sales and marketing success, and construction quality. Northland Residential won a Gold award in the Single-Family Production - 2,000 s/f or below category.
The design team for Dorset Park included Don Powers and Jeremy Lake of Union Studio, Providence, RI; Stephanie Morrison of Morr Interiors, Newmarket, NH; and photographer Shelly Harrison of Shelly Harrison Photography, Chestnut Hill, Mass.
The annual design awards honor projects across 10 categories: single-family production homes (in three square-footage sub-categories), multifamily homes, one-of-a-kind custom homes, "on the boards" projects, new community homes, systems built/modular homes, green homes, and urban infill.
"We are thrilled to receive the Gold award in recognition for our diligent work with our partners in the development of Dorset Park," said Peter Crabtree, project executive and vice president of Northland Residential Corp.
Dorset Park is located on the corner of Memorial Grove and Snowbird Ave. in Union Point. To design the neighborhood and floor plans of the homes, Northland commissioned Union Studio of Providence, a firm nationally recognized for their work in mixed-use developments. The neighborhood plan features a distinctive streetscape that ends in a cul-de-sac, inviting private backyards and a small park that connects the homes to the larger Union Point community.
The PB Design Award winners was featured in the September 2017 issue of Professional Builder, as well as online at Probuilder.com.