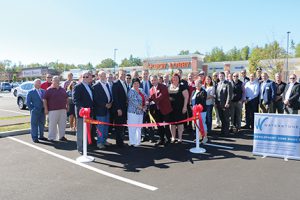 Waterstone and the city of Rochester celebrate the ribbon cutting
at THE RIDGE Marketplace
Rochester, NH Waterstone Retail celebrated the grand opening of THE RIDGE Marketplace phase 1 on September 16, marking the opening of its major anchor and destination retail shops. The day kicked-off with a well-attended ribbon cutting ceremony followed by a Family Fun event with entertainment and festivities for the community. The new 300,000 s/f center located on Rte. 11 (at Exit 15 off the Spaulding Tpke.), is perched on 50 acres offering an open, highly visible and inviting atmosphere for shoppers and tenants.  The site includes a 200,000 s/f main building now home to five national retailers and a regional grocery anchor, with the 30,000 s/f strip building slated for a mix of restaurants, service uses, independent and small-scale retailers.  Site work is underway for four outparcel buildings totaling 70,000 s/f with targeted uses to include restaurant, medical, retail, banking and pharmacy.  Plans also include the addition of an outdoor green space for seasonal events, community gatherings, festivals, outdoor movies, artisan fairs and a place to enjoy al-fresco dining. 
Market Basket Supermarket, opened it's 80,000 s/f grocery store offering customers a wide variety of value priced grocery items, butcher section, instore tasting station, as well as Market Kitchen Cafe, a comfortable eat-in dining area. Hobby Lobby opened the 55,000 s/f arts and crafts discount mega-store featuring more than 70,000 arts, crafts, hobbies, home décor, holiday and seasonal products.  Along with Market Basket and Hobby Lobby, well-known national retailers Marshalls, ULTA Beauty, Famous Footwear and Petco also opened their doors to crowds of customers and better than expected opening sales.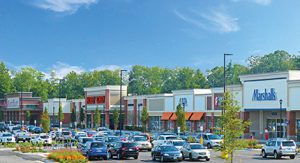 THE RIDGE Marketplace - now open
The extraordinary success reported by retailers now open at THE RIDGE is attributed to the expansive Rochester trade area drawing on a population of 280,000 people and extending 40 miles well into the lakes and mountain regions.  In addition, with its close proximity to the Maine border, THE RIDGE attracts Maine residents seeking to take advantage of New Hampshire's "no sales tax" status as currently experienced by the  #1 Walmart Super Center in the state located adjacent to site standing at 225,000 s/f.  Waterstone is confident that THE RIDGE Marketplace will share the same success of its 270,000 s/f flagship center "Brickyard Square" in Epping, N.H. which features 26 tenants including an 76,000 s/f Market Basket Supermarket, Marshalls, PetSmart, Michaels, ULTA Beauty, NH Liquor and Wine Outlet, 900 Degrees Wood Fired Grill, O'Neil 12 screen movie theater and more.  
 New Store Announcements 
 Tenants now signed and opening at THE RIDGE  in 2017 include a flagship 20,000 s/f  New Hampshire State Liquor and Wine Outlet, The Paper Store, 110 Grill, Kay Jewelers, Starbucks, Mikado Japanese Steak House, Cricket Wireless and Starbucks. Leasing efforts will continue to fill the remaining available space targeting  specialty apparel and accessories, sporting goods, full and fast casual restaurants, banking, service and entertainment uses just to name a few.    
Phase 2 
Development work is starting next month on the adjacent 26 acre site fully permitted for four building totaling 160,000 s/f  well-suited for retail, cinema, restaurants, furniture and entertainment uses  connected to Phase 1 and Walmart by a city own thourough fare. Consistent with Phase 1, the site will be open, pedestrian friendly and highly visible from Rte. 11. To further complement the retail and entertainment tenants, residential and hotel categories are being considered to add to the commercial mix. 
Announcing THE RIDGE – Hudson Valley - Opening 2018
Building on the success of THE RIDGE Marketplace in N.H., Waterstone and The Wilder Companies announced plans to open a 550,000 s/f shopping and entertainment development in the town of Newburgh, N.Y. in the heart of Hudson Valley. THE RIDGE - Hudson Valley, will include a large format supermarket, wholesale club, sporting goods superstore, home furnishing, apparel, footwear and quality dining options.  With a dynamic location, quality shops, exceptional restaurants and unique entertainment venues, there is nothing like it in the Greater Hudson-Valley market today.
According to Neal Shalom, principal of Waterstone, "Our goal is to not only provide the community with a convenient, family oriented, entertainment-driven destination, but also to fill the major retail void in Eastern Orange County.  This is in the ideal spot right at the crossroads of I-84 and I-87 with more than 200,000 people living within a 15 minute drive.  Like the RIDGE project in Rochester, NH, this will be a popular destination to serve the entire Hudson Valley."
Waterstone is the lead developer on the project with Boston-based Wilder Companies spearheading leasing efforts.  Building on the success of THE RIDGE Marketplace in Rochester, N.H. and Brickyard Square in Epping, N.H. and many others throughout the Northeast, Waterstone has a proven track record of building quality shopping centers through innovative and mindful development practices.