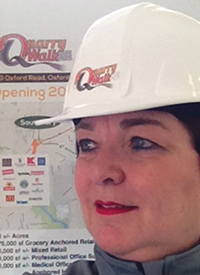 Kathryn Ekstrom, Haynes Development Company
For many decades the vast number of former rock quarries and sand and gravel pits have been mischaracterized as undesirable properties, even as eyesores amongst their otherwise  bucolic surroundings.
Today, these crater ravaged sites provide a unique opportunity to real estate brokers, developers and communities alike by transforming these once undeservedly unwelcomed business neighbors into vibrant adventure parks, golf courses, nature preserves, water front properties and so much more.
Together, let us take a walk back in time and unearth the myths and facts of the earth products industry and reveal the truths and opportunities that are ever present. 
As a case study, allow me to introduce you to Quarry Walk – Oxford's Towne Center located along Rte. 67 in Oxford, Conn.  Being developed under a village center mixed-use district zone, Quarry Walk is "slated" (no pun intended) to open in July and will offer over 215,000 s/f of commercial/retail space and will be grocer-anchored by Market 32 by Price Chopper.
Owned and operated as Haynes Stone Quarry for nearly two decades, the development site envelopes over thirty acres and has been the source of a widely distributed rock formation known as Gneiss. Commonly used in road construction, building site preparation, landscaping projects and curbing, Gneiss is durable enough to perform well as a dimension stone that is sawn and split and used as architectural stone on building facades, fireplaces, pizza ovens and outdoor kitchens, just to name a few. 
So after decades of employing dozens, if not hundreds, to take what was once a mountain of rock and hole in the ground and transform it into a $70 million dollar economic development project that has earned the Connecticut Economic Resource Center (CERC) 2015 Celebrate CT! Award for uniquely contributing to economic growth in Connecticut, Quarry Walk will offer a truly distinguishing competitive advantage by offering much needed retail and healthcare access to the residents of Oxford and surrounding communities.
Quarry Walk will be a "wise and well" life and leisure experience; where economy, ecology and community come together to create a vibrant town center.  Truly a successful environmental reclamation of a former quarry where vision and a commitment to sustainable development come together to create a downtown complete with a community green, amphitheater,  Newtown Savings Bank (founded in 1855), state-of-the-art Griffin Hospital based medical office building, Ace Hardware, United States Postal Service, and where approximately 1.5 miles of walking trails around the site perimeter will be created.
Under the umbrella of Haynes Group, Haynes Development has master planned Quarry Walk to include 150 residential units in addition to the commercial/retail components.   As a vertically integrated company, each of the tenant spaces will feature stone products produced by Haynes Materials Company (www.gohaynes.com).  The stone which originated from the exact site upon which these new businesses and residence will be constructed will contribute to the sustainability story of this project.  Each individual piece of stone connects us with our past, celebrates the present and provides a tribute to the future. 
Quarry Walk not only describes the "life cycle" of when the property was once a quarry, but it also captures the literal journey we all take…our walk of life.  From the early days as a stone quarry to its bright and promising future as a "third place" where the entire community will have a place for social interaction and a sense of belonging, Quarry Walk is not theory, but rather a real life example of reclamation.
It has been said that "if it's not grown, it must be mined," however, unlike the farmer who is revered for planting, tending, picking and transporting their produce to be sold in grocery stores for all to consume, those in the quarry and mining industries are often times disparaged for their activities of processing stone, producing aggregate products and trucking them (ironically) to be used in the very homes in which we and our families live and in the buildings, roads, bridges and infrastructure that make up our towns and communities.
In short, the answer to whether environmental reclamation can be achieved is profoundly, yes!  However, to successfully accomplish this goal the process, in addition to requiring the technical expertise, relies heavily upon vision and a commitment to purpose.  In the case of Quarry Walk, we had a long term objective of restoring the site and providing the community a "downtown" which was noticeably absent from the town.  Located along a commuter route connecting I-84 and Rte. 8, Quarry Walk is located in the fastest growing town in Connecticut and is an emerging market.
So, the next time you pass a former rock quarry or sand and gravel pit that has long since been abandoned, look at it as an opportunity.  An opportunity for real estate brokers, developers and the communities you serve.  As we at Haynes say, we are "making the world a better place one stone at a time."
For more information on Quarry Walk or Haynes Development, visit www.quarrywalk.com or email kekstrom@haynesdevelopment.com.
Kathryn Ekstrom is development manager for Haynes Development Company, Seymour, Conn.