Boston, MA On March 21, REFA held its first women's program of the year with speaker Maureen McCaffrey, director, MITIMCo. The program was held at Babson College's Meeting Space, 99 High St., on the topic of "Speaking While Female." Formed in 2015, REFA's Women's programs are held throughout the year as a chance for women to network and hear from prominent female leaders within the real estate finance community.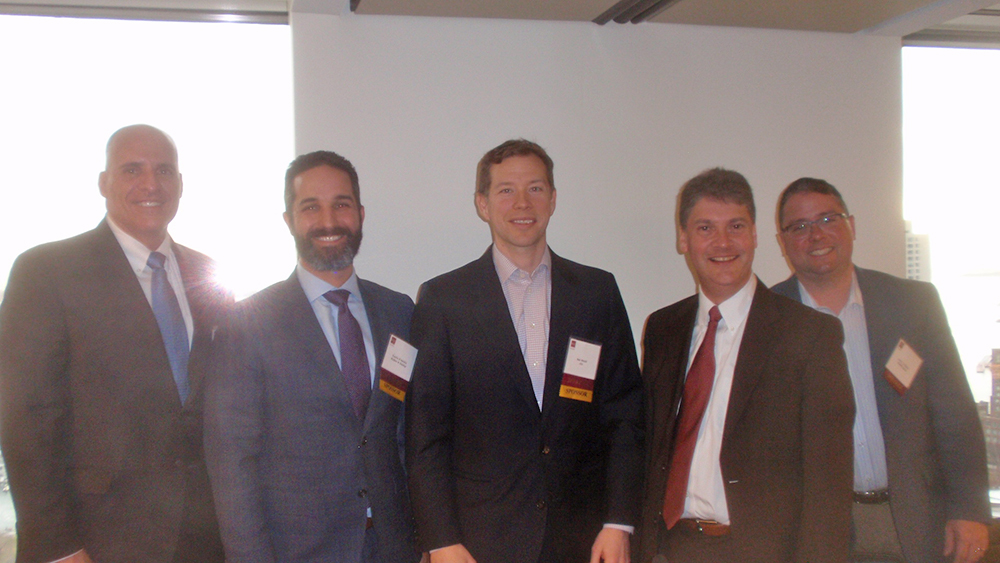 On March 28, REFA held two events, one of which was a National Real Estate Conference Highlights Program. This is the second year in a row REFA has held this program as a follow-up to the real estate conferences that take place towards the beginning of each year. The program covered general highlights from each conference, as well as what trends the panelists have been seeing from a local and national level, and what they expect to see in the future. Panelists for this program included moderator Paul Nasser, CFO & COO, Intercontinental Real Estate Corp., 2017 REFA president and speakers Travis D'Amato, SVP and managing director, Walker & Dunlop; Nat Heald, executive vice president, JLL; Greg Labine, managing director, HFF and Larry Trabulsi, senior vice president, CHMWarnick.
REFA's Spring After Hours also took place on March 28 and was held at Causeway Restaurant and Bar. REFA's After Hours events are held quarterly at a local bar or restaurant as an informal networking opportunity for REFA members and non-members within the real estate finance community. Prior to the After Hours, the REFA Emerging Leaders group hosted an exclusive Behind-The-Scenes tour of the new Hub on Causeway/North Station project. James Magaldi, Kevin Sheehan and Melissa Schrock with Boston Properties helped lead the tour with 20 of REFA's Emerging Leader members.
"Beyond Cambridge – Life Sciences in The Suburbs" was the topic of discussion at REFA's most recent Education Series program held on April 4. Moderator Ben Coffin, executive vice president, JLL led an engaging and interactive discussion with speakers Tom Andrews, executive vice president & regional market director, Alexandria; Jamie Peschel, managing partner, Longfellow Real Estate Partners, LLC and Tom Ragno, owner & founder, King Street Properties.
REFA will be holding a Fundamentals overview on Ground Leasing on Tuesday, April 24. Speakers Marianne Ajemian, partner, Nutter, McClennen & Fish, LLP and Matt Lawlor, partner, Robinson + Cole LLP with provide the audience with an overview of the topic and how it relates to trends we are seeing in the industry.
Save The Dates:
This year's Annual REFA Charitable Golf Tournament, Golf Clinic and Tennis Tournament will be taking place on Monday, July 23 at Dedham Country and Polo Club. The tournament will be benefiting FamilyAid Boston and Rosie's Place, two charities whose mission is to help end homelessness within Greater Boston.
The 30th Annual REFA Gala will be held on Thursday, October 11 from 5:30 – 9:00 p.m. at the Marriott Copley Place. This year's honoree and recipient of the Robert S. Swain Jr. Distinguished Service Award is Rob Griffin, U.S. head of capital markets, president, New England Area, Newmark Knight Frank. REFA looks forward to honoring Griffin for his accomplishments and all he has done within the community.
For more information about REFA and upcoming events, please visit our website at www.REFA.org. Follow REFA on Twitter and LinkedIn @REFABoston.