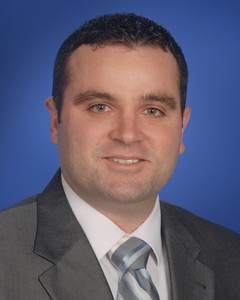 Chris McMahon, Summit
Realty Partners
There are a variety of important trends affecting the shopping center industry including the expansion of restaurants, fitness centers, and off-price retailers. A related trend is the positive effect that a strong consumer is having on the retail industry. The performance of several apparel retailers including Kohl's, Under Armour, and Nordstrom have improved recently with better than expected sales results. These results positively affected each company's valuation and give skeptics of brick and mortar stores a dose of optimism.
Although Macy's recently announced the closing of 100 stores, their stock price has gone up significantly as investors see the closings as a necessary step for Macy's to remain competitive. Further strength in the U.S. economy can be derived from investor confidence such as South Africa-based Steinhoff International's recent announcement to acquire Mattress Firm for $3.8 billion. Another example is Europe-based JAB Holdings recent purchase of Keurig Green Mountain for $13.9b and they also have plans to acquire Krispy Kreme for $1.35 billion. Combined with record high stock valuations across the S&P 500 and the Dow Jones Industrial Average, things seem solid.
As a result, we are experiencing steady tenant expansion throughout New England which is driving investor interest in retail properties, the need for new development projects, and foreign investor demand in consumer retail businesses. For shopping center owners, this is a great time to consider selling or refinancing as both buyers and lenders appear eager to get their money into commercial real estate properties.
Tenant expansion is mostly focused in categories that have the ability to differentiate themselves from the on-line competition. This includes restaurants, grocery, fitness, healthcare, off-price retail, pet stores, arts & crafts, and other service-based retailers. By way of example, 7 of the 13 retail runway presenters at the New England ICSC conference held in Boston this past July were food related. Stop & Shop spoke to its planned expansion of its smaller format bfresh grocery store concept. Friendly's Restaurants, a long-time New England favorite, talked about its recent resurgence; the company has paid down all of its debt with the sale of its ice cream manufacturing business to Dean Foods for $155 million. Since updating its restaurants and menu, Friendly's has seen positive sales for at least 15 months and is now planning to roll out several new restaurants with drive-thru ordering.
The restaurant and food trends are further evidenced by our recent transactions with Dairy Queen and Burger King. Dairy Queen has received full approvals to construct a new restaurant in Concord, N.H., and Burger King is currently finalizing permits for a location in Haverhill, Mass. Just recently, the Boston Globe reported Dairy Queen plans for massive expansion in Massachusetts alone and plans to triple their current store count. Tropical Smoothie Café, whom we represent, has two leases pending. We secured Zoup!'s second lease in New England in downtown Worcester, Mass. Mr. Mac's, a Manchester, NH-based franchise, has a total of three new restaurants pending as we work to finalizes leases. At a recent Bisnow retail event, Legal Sea Foods spoke about its desire to continue opening new restaurants in prime locations similar to those that they have been able to recently secure in Somerville and Lynnfield, Mass.
Ironically, fitness is a close second in terms of demand. Several boutique class-based concepts continue to expand throughout New England. Large scale traditional gyms continue to grow as well. The smaller boutiques that specialize in spin, barre, yoga, and interval training are certainly giving the larger traditional gyms a run for their money. We've recently secured a lease with Pure Barre in East Longmeadow, Mass. who plans to open before the end of the year. Classes at Pure Barre can run $225/month for an unlimited pass and single classes can cost as much as $25. We have been advising Orange Theory Fitness in its northern New England expansion with the most recent lease signing in Portland, ME. Lifetime Fitness, recently announced plans to open a 128,000 s/f facility in Burlington, Mass., and another in Framingham, Mass. Planet Fitness has 58 locations operating in Massachusetts alone and is continuing to seek new sites for expansion.
Off-price retailers are continuing to find success throughout the country. They are a retail category that is fueling demand for both junior box and big box space at our regions shopping centers.
Examples of retailers in this category include Nordstrom Rack, HomeGoods, TJ Maxx, Burlington Coat Factory, and Ocean State Job Lot. A report by Moody's suggests that off-price retailers are anticipated to experience apparel revenue growth of 6-8%, outperforming the broader apparel segment by a collective 4%.  According to Moody's, "The off-price model has proven that the customer will still shop physical locations when given the right value and store experience." These off-price retailers and the other expanding concepts mentioned here have found creative ways into the consumers' wallet. The message is clear, retailer businesses must evolve to meet today's consumers' wants and needs if they want to be successful. Mediocracy just won't do.
Best wishes to you this fall as we strive to finish the year strong!
Chris McMahon is a partner and the director of brokerage at Summit Realty Partners, Lexington, Mass.