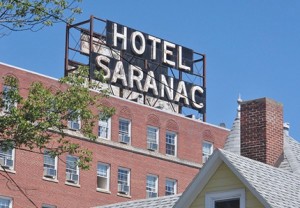 Hotel Saranac, 100 Main Street, Saranac, NY
Saranac Lake, NY Roedel Companies has introduced a new addition to its renovation of the Hotel Saranac, a signature restaurant named Campfire, Adirondack Grill & Bar. The restaurant, at 100 Main St., will celebrate the history and heritage of Saranac Lake and the Adirondacks.
The concept behind Campfire, Adirondack Grill & Bar was developed by Korn Design and Grill Ventures International. Javier Cortés, partner and creative director of Korn Design, explained that the keystone of the restaurant's design and food offerings is the single common element found throughout all camp cooking: fire.
ROK Builders, LLC, the hotel construction affiliate of Roedel Companies, LLC will partner with Group One Partners, Inc., on the interior design and layout of the restaurant. The Hotel Saranac will remain closed during construction and reopen in 2016.