Boston, MA Shawmut Design and Construction joined University of Massachusetts Boston, Capstone Development Partners, and Elkus Manfredi Architects for the topping-off ceremony of the university's first on-campus residential facility.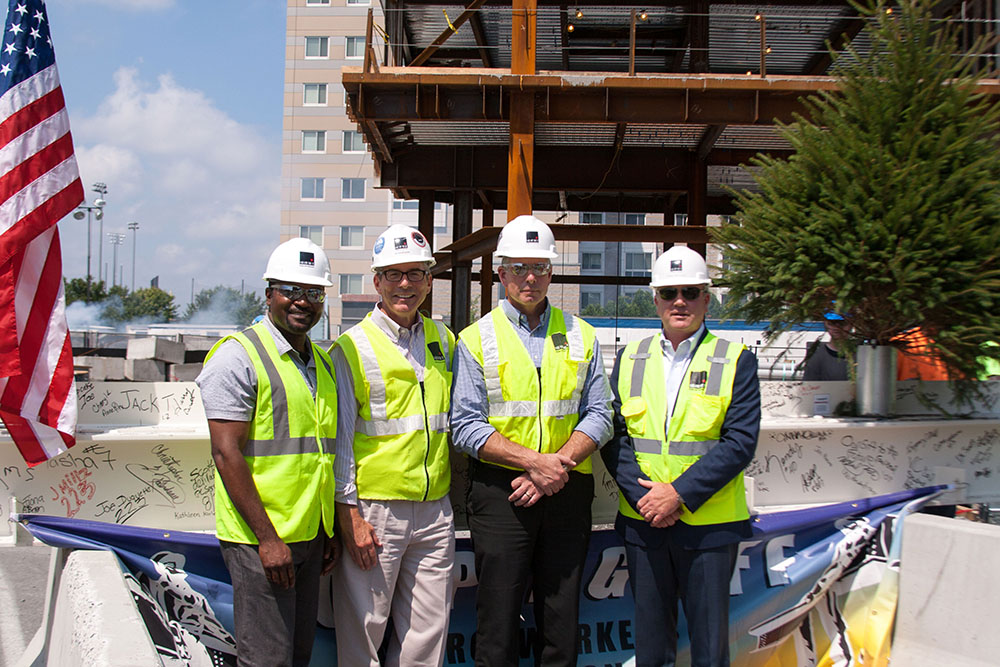 Set to open in the fall of 2018, the 260,000 s/f private-public project will consist of two buildings, ranging from seven to twelve stories, and will achieve a long-held goal of providing students with an on-campus residential option. It will also include living-learning amenities such as seminar rooms, study lounges, a 23,000 s/f dining hall, and other conveniences to promote academic and personal development.
"We're proud to be part of this new and innovative public-private partnership model," said Kevin Sullivan, vice president at Shawmut. "This partnership is a true collaborative effort and we are excited to contribute to UMass Boston's goal of adding residence life to the campus."
The new residence hall will offer a mixture of styles ranging from single-occupancy apartments to four-person units, along with flexible living-learning spaces. The project will also form the new northern gateway to campus, and is part of the university's 25-year Campus Master Plan. Shawmut has recently completed projects at Northeastern University, Harvard University, Boston College, Boston University, and Brown University.
Shawmut Design and Construction is a $1.3 billion national construction management firm with a reputation for completing extremely complex and logistically challenging projects for the most high-profile clients in the industry. As an ESOP (employee-owned) company, Shawmut has created a culture of ownership, proactive solution-making, and forward thinking. Eighty percent of its business comes from repeat clients, proving there is a strong focus on building lasting partnerships.