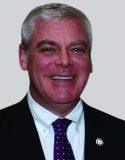 Spring has finally arrived and with that comes the anticipation of a new season in the Ocean State. Along with warmer days and cool, but comfortable nights, it is easy to be excited for all that the season will bring with it. With buds blooming and temperatures rising it makes sense that projects in and around Warwick are also buzzing.
City Centre Warwick was the backdrop for the early April groundbreaking ceremony of the new Hyatt Place hotel. Michael D'Ambra, Sr. along with governor Raimondo, congressman Langevin, the Rhode Island Commerce Corporation, the Rhode Island Department of Transportation and the Rhode Island Airport Corporation gathered to officially break ground on the new 125-room hotel. The Hyatt will be the city's 17th hotel and will be the first to have direct interior access to the InterLink parking garage. The $20 million project itself will create 145 construction jobs and approximately 30 permanent jobs upon completion. The hotel is the first of multiple new construction projects slated to be erected alongside the hotel.
In addition to the new hotel, we also celebrated some longtime companies who have called Warwick their home for several decades. Riley Plumbing and Heating celebrated their 40th anniversary. William J. Riley Plumbing & Heating Co., Inc. was founded in April, 1977 by William Riley. Initially starting up the company in his home and moving into his garage, Riley has been able to build the company into a success over time with the help of his wife, son, daughter, and son-in-law. Today, they are located at 15 New England Way, in Warwick.
The city also welcomes a new early learning center for children. Wonder Kids hosted an open house and ribbon cutting ceremony to celebrate its new location in Warwick. The early learning center boasted a design to provide all of our classrooms with unique and individual characteristics for each of their programs. Every classroom is equipped with the age appropriate elements necessary to successfully reinforce teacher's skills. They provide a consistent environment where every child can enjoy his/her own individual program without any interference from other classrooms, and ensure each specific program's goals and objectives. This also provides the ability to better monitor each individual child's development, and creating the accountability necessary to inform and discuss each child's goals and objectives with their families. We are thrilled to have another great resource for parents and children right in the heart of Warwick.
A new housewares store is now calling Warwick home. At Home open its doors in early April on Rte. 2 in Warwick and is the first location in the state. The home decor superstore, offers more than 50,000 on-trend home products to fit any budget or style, from sofas to dining sets and mattresses to patio furniture, Christmas trees and more! At Home, which is headquartered in Plano, Texas currently operates 123 stores in 30 states. For more information, visit the company online www.athome.com.
As the temperatures begin to rise, so does the anticipation of many of our favorite warm weather events. From Food Trucks Nights to backyard BBQs, beach days in Oakland Beach to Sunday afternoons on the city's ballfields, Warwick is gearing up for another fun-filled spring season. All familiar reason why we all love spring in Rhode Island.
Scott Avedisian is the mayor of Warwick.