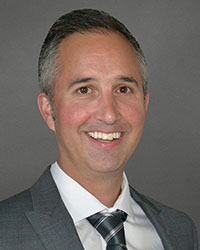 Over the last decade, New England Hotel Realty (NEHR), one of the leading hotel brokerage and real estate advisory firms in the northeast, has seen the hotel construction pipeline in New England grow exponentially. At the end of 2009, there were 96 projects/11,372 rooms in the New England hotel construction pipeline. At the end of 2018, the pipeline reached a 10-year all-time high of 159 projects/20,411 rooms, a 65% increase over the 2009 total. As a matter of fact, for the last six years New England has had more than 100 projects consistently in its pipeline, adding a total of 209 hotels/21,716 rooms into the supply in New England within the last 10 years. Moreover, NEHR is expecting another 52 hotels/6,633 rooms to open within the next two years in New England.
Almost half of the new hotels that have entered into the supply in New England in the last 10 years can be found in Massachusetts, followed distantly by Maine and then Connecticut. The most favored brands by developers that have been built within the last decade include: Residence Inn by Marriott, with 21 projects/2,689 rooms; Hampton by Hilton with 29 hotels/2,950 room; Homewood Suites by Hilton with 12 projects/1,275 rooms; Hilton Garden Inn with 11 projects/1,386 rooms and Courtyard by Marriott with 10 projects/1,045 rooms.
How has all of this decade's new supply impacted hotel sales transactions, selling prices and the hotel owners' desire to sell at the top of this lodging real estate cycle?
Within the last year, NEHR has noticed a considerable uptick in the number of owners requesting consultations and deciding to sell. The reason for this is that investor interest in Upscale, Upper Midscale and Midscale branded hotel assets in New England continues to remain high due to their ease of operation, strong corporate and leisure demand, the low cost and availability of capital as well as the fact that there just aren't enough hotels on the market to meet investor demand. Therefore, investors are willing to pay higher prices for these assets.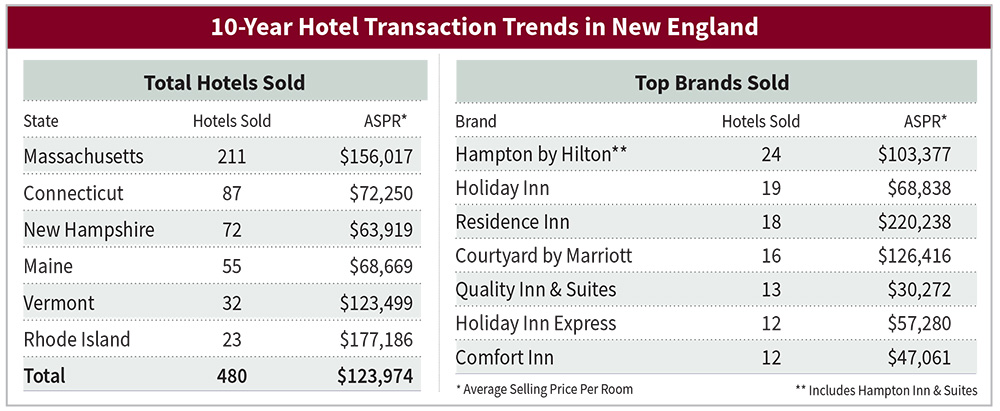 Over the last 10 years, NEHR has seen average selling prices skyrocket. For 2018, there were 40 hotels that sold for an average selling price per room (ASPR) of $161,815 in New England. In 2010, a similar number of hotels (42) sold accounting for an ASPR of only $90,563. Massachusetts transaction activity continues to dominate New England with 20 hotels selling in 2018. The two assets with the highest selling prices were the Residence Inn on Congress St. in Boston, which sold for $77 million and the Residence Inn on Arsenal St. in Watertown, MA, which sold for $71 million. Other notable sales include the DoubleTree by Hilton in South Burlington, VT which sold for $35 million and the Marriott Stamford, CT which sold for $32 million.
Similarly, branded hotels draw the most investor interest and account for 60% of the hotels sold in New England. The brands that have sold most frequently within the last 10 years are Hampton by Hilton with 24 hotels, IHG's Holiday Inn with 19 hotels, Residence Inn by Marriott with 18 hotels, Courtyard by Marriott with 16 hotels, Choice's Quality Inn & Suites with 13 hotels, and with 12 hotels each are Choice's Comfort Inn and IHG's Holiday Inn Express.
NEHR anticipates the demand for both branded and unbranded assets in New England to remain high into the foreseeable future. We have a substantial and continuously growing roster of active investors who are interested in acquiring hotel assets now. If you are considering the possible disposition of one or more of your hotel assets, or if you would like to be notified when an asset meeting your acquisition specifications becomes available for sale, please contact NEHR or register on our website: newenglandhotelrealty.com/register.
For more than 40 years, NEHR has been a leading hotel real estate brokerage and advisory firm in New England. NEHR provides comprehensive disposition, acquisition, property valuations, asset management services, operations analysis and consulting services. Utilizing the hotel real estate intelligence of our sister company, Lodging Econometrics, NEHR can help you develop a strategic plan for your assets using accurate and timely analytic tools including: recent sales transactions, and in-depth market reports. Lastly, NEHR has the names and contact information for all the owners in any region of the country. From this list, we can specifically target investors interested in assets like yours. Everything we do is geared towards providing you with exceptional service in a timely and confidential manner.