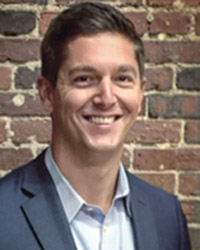 What was your greatest professional accomplishment in 2019?
The collective effort to bring The Shoppes at 655 South Willow (Manchester, N.H.) to over 80% leased. We worked with a number of industry leaders, national retailers, and brokers to create excellent synergy at this 190,000 s/f mixed-use shopping center. We have been able to land nearly every use-type we initially targeted, with only a handful of spaces remaining available for lease.
What was your most notable project, deal or transaction in 2019?
We acquired the former Swansea Mall in Swansea, Mass. The property totals 84 acres with 600,000 s/f of existing retail buildings, which formerly housed Macy's, Sears, and Old Navy. The behind the scenes redevelopment planning has been a team effort, and this month we received approval for the residential apartment community and self-storage facility that we will be adding to the site. What currently sits as an empty mall will ultimately be boasting several hundred thousand s/f of professional office, medical office, retail, and restaurants.
What are your predictions for commercial real estate in 2020?
Sustained opportunity to capitalize on the ever-changing needs of commercial office and retail tenants alike, by way of identifying creative uses of space and thinking outside the box – pun absolutely intended.