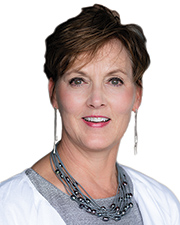 Jane Sullivan
Senior Associate, Senior Interior Designer
Margulies Perruzzi
What is your favorite motivational quote and who was it by? "Believe you can and you're halfway there." - Theodore Roosevelt. Early in my career, the thought of renovating a space, even a small 25,000 s/f space, felt overwhelming. Today, I tell young designers to just start by saying "I can," and before you know it, the space is almost finished! Just to simply believe that you can do it.
What honor, achievement or recognition means the most to you and why? In architecture school, I won 2nd place in a national design competition and was published in a prestigious architectural magazine. I was thrilled, and it made me realize that I have really good ideas. My approach was different: Instead of a series of plan drawings, I created a series of models that I photographed in black and white. I took the photos, cut them into strips, and pasted them on boards. Each one was a different view of a series of buildings. The whole concept was about layering the built form in the environment, and I was honored to be recognized.
Who inspired you to join the CRE Industry? I studied urban planning and architecture, and commercial real estate is a vital part of any urban fabric. The art of building is how we shape our urban environment. My current focus is on interior space, and I think of it in terms of urban planning like creating public spaces, private spaces and circulation. My goal is to create an interior streetscape for my clients.