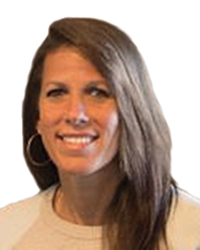 Jennifer Fairfield
Director of Marketing
Waterstone Properties Group
What is your favorite motivational quote and who was it by? "And in the end, it is not the years in the life, but the life in the years." - Abraham Lincoln.
Who was the best speaker you have seen at an event? To be honest, Waterstone's principal/partner Josh Levy who spoke at a recent NEREJ Summit on mixed-use projects in New England. He did an amazing job emphasizing the importance of the experiential components of real estate – not only through the bricks and mortar, but also by engagement through digital programs and on-site programming and events. His comments really resonated with the audience and it was very impactful coming from a developer who spends so much time connecting with communities!
Who inspired you to join the CRE industry? My mom had always been actively involved in residential and commercial real estate.