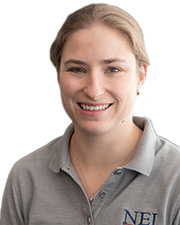 Jill Blenis
Senior Estimator
NEI General Contracting
What is your favorite motivational quote and who was it by? "Just because you can, doesn't mean you should." - Sherrilyn Kenyon. It reminds me to move away from the usual step-by-step process and focus on the end goal of the client.
Who inspired you to join the CRE industry? A residential homebuilder that I worked with in high school.
What is the best advice you have received, and who was it from? In relation to estimating –"Good practices last forever" from a former boss who instilled the structure I utilize today.