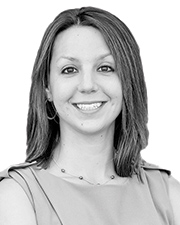 Lindsay Goodrich
Advisor & Leasing Agent
Berkshire Hathaway Verani Commercial
What is your favorite motivational quote and who was it by? "A culture of discipline is not a principle of business, it is a principle of greatness." – James Collins.
Who inspired you to join the CRE industry? My director, David De Lise. His passion for the business is contagious and after careful consideration, we found retail to be a perfect fit for me and what I was looking to do in the business.
What recent project or transaction are you most proud of? Currently, our retail team and I are working on Capital Place, a redevelopment of a site in Nashua, N.H. I've been involved with the purchase, redevelopment strategy, planning and leasing assignment for the project. I've been involved from the beginning and am excited to see it through to completion.