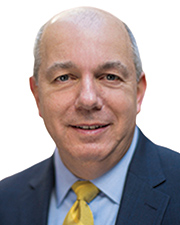 What was the most difficult part of working during the pandemic of 2020? I love my wife, kids and cat, but we had recently downsized from a large house in the suburbs to a two-bedroom high-rise condo in the city as empty nesters. Our youngest was now a junior in college. Time to have fun. Then March 16th came, and we had six people and a cat in a two-bedroom apartment. Between businesses and colleges closing, everyone came home. Zoom calls with TV's on, the cat meowing, people talking in the background, etc., the business environment was not ideal. Luckily, I live downtown, a minute or two from the office. I come to the office and get work done alone. One of our kids has been able to go back to NYC. Still three are at home. My home is not the greatest environment to get substantial work done.
What aspects of working from home have you enjoyed most? No drive time, but see above.
What are your predictions for commercial real estate in 2021? In RI, even though the demand has been strong, certainly for industrial product, the ongoing lack of inventory, even worse than in a typical market, will strangle the level of business during 2021. There is never any new spec product in our market and with the lack of movement during 2020, this leaves very few options for the industrial tenants / buyers. Office and retail users will have alternatives during 2021, but little overall demand relative to a healthy level, for those product types.