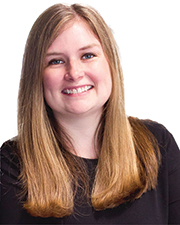 What led you to your current profession? I took courses in engineering and architecture when I was a student at Silver Lake Regional High School in Kingston. I was influenced somewhat in my career choice by the example of my grandfather, who was a civil engineer for many years. I went to Roger Williams for both undergraduate and graduate degrees. My first internship (which also became my first full time job after graduation) was at a firm which concentrated on public projects; and I was excited to come to DJSA to apply my skills to the private sector.
In the past year, what project, transaction or accomplishment are you most proud of? In the past year, we completed an office fit-out project in Taunton, where I worked through every aspect from programming and schematics through construction. This is a warehouse and office fit-out project, which included designing a front office, the main offices of the building, a dispatch center, and driver break lounge areas. It's exciting to see a project progress through all these phases, and it is the first project for me since joining DJSA that I've seen through to completion.
What is one characteristic that you believe every woman in commercial real estate should possess? For women in this industry, do not be afraid to speak up and have your voices heard. Women can offer insights and perspectives that bring value to each project, and it's important in a creative process such as the work we do to have those voices and those insights heard.