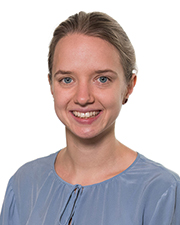 What was your greatest professional achievement or most notable project in the last 12 months? I'm working with the Acentech team on the Boston University Center for Computing and Data Sciences (designed by KPMB Architects), a 19-story tower and the first building at BU to strive to be 100% free of fossil fuels.
What are you most looking forward to post-pandemic? I'm looking forward to more networking opportunities.
How have you adapted and changed in the last 12 months? We managed to successfully continue working remotely.
Starting out in the construction business, who or what empowered you? I have drawn inspiration from my female colleagues in the field.