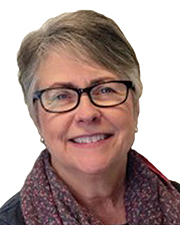 What was your greatest professional achievement or most notable project in the last 12 months? Honestly, I can't pick just one – each has its own set of interesting scenarios and challenges.
What steps have you taken to ensure the continued success of your firm? I try to be as flexible as possible and always put forth my best efforts.
Why should women consider a career in construction? There are many opportunities for women in construction and most companies need to represent themselves as having a diversified workforce. Without a doubt, there is never a dull moment.
Starting out in the construction business, who or what empowered you? After working for a management consulting firm for 20 years, the principal retired and closed the business. So, I had to reinvent myself and thankfully, there are quite a few construction companies in my area.
What are you most looking forward to post-pandemic? Travel
How have you adapted and changed in the last 12 months? Same as everyone else I suppose, work from home when necessary, do what I can to keep loved ones and coworkers safe. My elderly mother lives in my home and keeping her safe and healthy has been the most challenging.