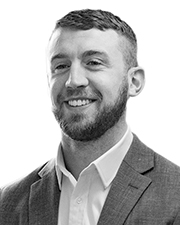 What recent project, transaction or accomplishment are you most proud of? A major milestone in my career to date was being the design manager for both process and process automation at one of DPS Group's larger clients. Seeing and understanding the complexities of how we approach large-scale mRNA cGMP facility design has allowed me to gain invaluable engineering experience. Since joining DPS I've been on many projects involving some of the most innovative life sciences processes in New England, so it's hard to select just one experience, but this one is up there.
What does it take to succeed in your specific industry? I believe the key to success is to achieve and exceed client requirements and expectations; to super please. As an organization, DPS Group looks at the relationship, not just the bottom line, and alongside our world-class operations and engineering teams, I am glad to support to this core value.
What led you to your current profession? Growing up in Ireland, I was surrounded by large, world-class life sciences manufacturing operations, and I always aspired to work in the industry. I've landed in project management at DPS Group, a full-service engineering firm serving high tech process industries, where I have the opportunity to contribute to the industry's end goal of saving and improving the quality of life for millions of people worldwide.
What are the top 3 items on your bucket list?
Travel to Nepal
Finish my Electrical Apprenticeship
See the Boston Bruins win the Stanley Cup
What are you doing when you aren't working? Play hurling and Gaelic Football