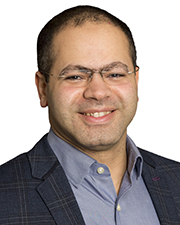 What recent project, transaction or accomplishment are you most proud of? Receiving the global Autodesk Innovator of the Year award for creating new solutions by combining virtual design and construction technology with BIM to transform the building processes using smart data, digital prefabrication, virtual reality, additive manufacturing, and laser and drones scanning technologies.
What led you to your current profession? I've been fascinated by architecture and beautiful buildings from a young age and, being inspired by my father who is an architect, I learned how to appreciate both art and building science.
What does it take to succeed in your specific industry? Persistence, hard work and learning new things every day.
What are the top 3 items on your bucket list?
Helping our community
Advocating for kindness
Traveling all around the world
What are you doing when you aren't working? Spending quality time with family and friends