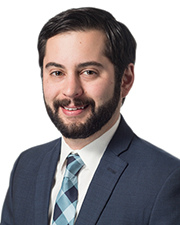 What recent project, transaction or accomplishment are you most proud of? A little over a year ago, we completed an energy audit at a university lab building. For the past 15 years, I have been in (mostly) building commissioning, however, I have recently been engaged managing the design process of energy conservation measures (ECM). The measures target BAS controls strategies and air change rate optimization. The planning, organizing, and development of design documents has been a great learning experience. Experiencing this process firsthand – ECM concept → design → implementation → Cx → M&V for a major building has been a goal of mine, and I'm excited to be part of it. I am able now to directly effect how the project is scoped, budgeted, and implemented. Most importantly, I have a heavy hand in how the energy and cost savings are realized.
What does it take to succeed in your specific industry? There are so many factors, but I think that strong communication, maintaining curiosity, and managing expected outcomes are the key factors that help my success. They bleed into each other. Bringing your curiosity to projects and people opens a whole world of possibility. I am curious about the why, the how, and the technical components. And to be honest, I find it hard to execute a project when I don't know some of these details. It's the energy driving strategic communication and achieving expected outcomes.
What are the top 3 items on your bucket list?
Raise my kids to be able to find the good in themselves and others
Be a valued resource for my clients and colleagues
Continue to grow professionally and seize opportunities as they arise
What are you doing when you aren't working? When I'm not working, I'm mostly on dad duty. I have a soon-to-be 5 year old and soon-to-be 2 year old keeping me on my toes at all hours. They're a ton of fun, and they've made my day job easy by comparison. I enjoy being in the kitchen. I cook for my family, and my kids eat none of it, ex-cept rice, they like rice…and bread…and meatballs… and that's it. I also play adult-league hockey and picked up learning guitar a few years ago.