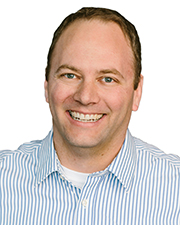 What recent project, transaction or accomplishment are you most proud of? For the past six years I have been working on the 196,000 s/f Bristol County Agricultural High School project in Dighton, Mass. The project includes the construction of four new buildings, one renovation, and a renovation with addition. Working with a great team, we transformed the school into a student-oriented, pedestrian-friendly campus, and created an architectural language that honors the existing history and farm vernacular of the 100-year-old school, while creating a new forward-looking identity for the campus. The spirit, pride, and culture of the school is very strong, and designing a building to match it is my greatest accomplishment.
What led you to your current profession? As a child I loved building sandcastles, but I also tended to make sure there was parking and different ways in and out. I can remember walking my dad through one of my designs and he said, "You should be an architect." After graduating with a degree in finance, I realized I was not in the right profession. I quit my job and went to grad school at the Boston Architectural College. I always look back on that first memory, and realize now how impactful it was, and led me to the architectural profession I am in today.
What are the top 3 items on your bucket list?
Visit the Great Pyramid of Giza in Egypt
See the Northern Lights
Island hop in Greece
What are you doing when you aren't working? Coaching my kids in various sports