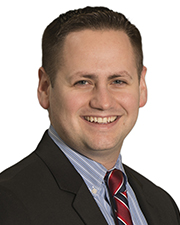 What recent project, transaction or accomplishment are you most proud of? Over the past 6 months, I've had the opportunity to work alongside our estimating team in closing two of Erland's largest contracts to date–each over $100 million. Both projects underwent several rounds of bidding and faced various budget challenges due to the current market conditions. I'm most proud of the way our team navigated the rising costs and limited resources the industry is facing. By continuously promoting these projects to our subcontractor base and driving value management, we were able to impactfully reduce costs for our clients and help these exciting projects moved forward.
What led you to your current profession? One of my uncles has a small excavation company and, fortunately for me, he didn't mind hiring a high school student with no experience in need of a work-study program to help him. That turned into long hours after school and many hot summers laboring, operating equipment, and doing whatever was required to complete each job. This experience shaped my work ethic and sparked my interest in construction. During my junior year, I found out about the Wentworth construction management program and the rest is history.
What are you doing when you aren't working? When I'm not working, I enjoy spending time with my family and friends. Most of my weekends are devoted to traveling to my daughter's cheer competitions and playing outside with my son.