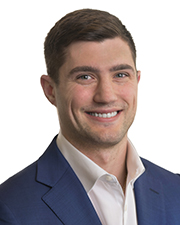 What does it take to succeed in your specific industry? I think patience is very important. When starting out, I was searching for success through instant gratification and was at times frustrated when deals were not materializing right away. This humbled me quickly and I learned soon after that this wasn't something that happened overnight. In order to realize success, I would need to have a long-term outlook when building my pipeline of potential business. Once the ball gets rolling, you'll gain confidence through these positive (and negative) experiences and reap the benefits of your hard work.
What led you to your current profession? I always knew I wanted to be in a customer-facing sales role but wasn't exactly sure what field was right for me. After graduating from University of New Hampshire, I ended up taking a position as a leasing agent with a residential apartment firm in Boston, working with college students and young professionals. From there, my interest in real estate took off and I aspired to join an investment sales team. When I had the chance to join Horvath & Tremblay, I jumped at the opportunity and haven't looked back.
What are the top 3 items on your bucket list?
Travel to 25 different countries
Go to Beerfest in Germany
Attend a baseball game at every MLB park
What are you doing when you aren't working? In the winter, skiing with family/friends. In the summer, sitting on the beach.