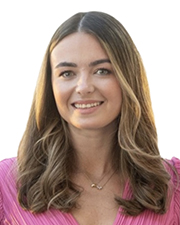 What does it take to succeed in your specific industry? From my perspective, there are two essential factors needed to succeed in real estate management. First, versatility is critical because no day is ever the same. Whether working with residents, owners, or colleagues, the fast-paced environment drives constant change. Second, since I am relatively early in my career, I've found that acting "like a sponge" is essential. So much of the management industry is learning by doing, and I am constantly trying to absorb as much information as possible from my more tenured colleagues. Furthermore, success can be drawn from those around you, and finding a mentor is invaluable.
What led you to your current profession? Growing up in the industry, I was always drawn to real estate management. Peabody Companies specializes in affordable housing, and preserving that affordability is something I am very passionate about. Additionally, my love for the industry comes from the mission-based work we do, the need to problem-solve constantly, and the notion that we are continually striving to improve the communities we serve. From interactions with residents to working with ownership entities, we all share a goal of providing the best place for our residents to call home.
What are the top 3 items on your bucket list?
Travel to Ireland
Run the Boston Marathon
Take a cooking class
What are you doing when you aren't working? When I am not working, you can find me at my local gym in Seaport, EverybodyFights, or trying new restaurants around Boston and Cambridge.