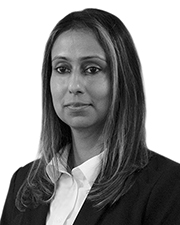 What recent project, transaction or accomplishment are you most proud of? I recently worked on a design where I was needed as a process engineer and project engineer. I managed the budget and schedule while also performing process and equipment design. It was an accomplishment to manage both roles effectively, and the project was completed on time and on budget. The experience gave me a deep appreciation of the requirements from all disciplines for a successful project. Now a senior process engineer for DPS, I'm glad to be among the talented teams across all verticals who work together seamlessly and utilize collaborative methodologies to achieve success.
What led you to your current profession? My father is a process engineer, and I completed my master's at Northeastern University. I've spent the last 15 years of my professional life in the biopharma space, where my interest in process and equipment design has flourished. About a year ago, I joined DPS, whose clients are known for their novel technologies and award-winning facilities. It has been so satisfying to contribute to the full life cycle of a project and help our clients realize and execute the design and construction of these facilities of the future.
What are the top 3 items on your bucket list?
Travel to New Zealand, my brother lives there, and I've never visited!
Finish learning French
Travel to Alaska
What are you doing when you aren't working? Trying new recipes. Playing with my dog. Reading, I love all genres.