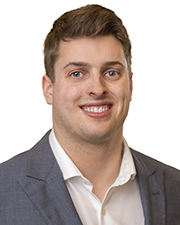 What recent project, transaction or accomplishment are you most proud of? Earlier this year I was able to successfully broker the sale of 81 units in Hinsdale, Winchester, and Keene, N.H. This deal was very complex due to the nature of scatter portfolios in rural markets across multiple towns, local retail tenants, and a mix of all types of apartments. This deal was very satisfying to complete because it left all parties feeling extremely pleased and excited for the future, which is the goal of all real estate transactions. The buyer was excited to acquire a large portfolio, and the seller was able to reap the rewards of years of hard work on the properties. Through my team at Horvath & Tremblay, we were also able to successfully complete a 1031 exchange for the seller and place him into a corporately backed long-term lease NNN property. A truly great deal for all parties involved!
What does it take to succeed in your specific industry? Success in commercial real estate brokerage is subjective. It is truly an entrepreneurial job, so you get out what you put in. However, it is much easier to be successful with a great team and great mentors. I am lucky to have that at Horvath & Tremblay. To all the young brokers out there, be a sponge and don't be scared to ask questions when you don't understand something!
What led you to your current profession? I credit my parents for introducing me to real estate at a young age. Both my parents are attorneys, however they also have successfully developed real estate in Maine. They showed me and my brother what a good business team looks like, and introduced us to the nuances of real estate at an early age. I was hooked ever since, and always wanted to work in real estate. The competition that brokerage provides was a natural transition for me after my college football career ended.
What are the top 3 items on your bucket list?
Take my whole family on a tropical vacation
Break 80 on the golf course
Develop apartment buildings in New England
What are you doing when you aren't working? Spending time with family and friends, watching/talking about the Patriots or Celtics, and listening to music.