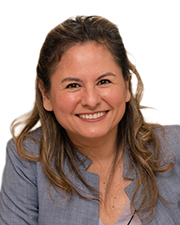 What was your greatest professional achievement or most notable project in the last 12 months? Cohasset Harbor project. This projects consists of the revitalization of Cohasset Harbor. Two existing harbor properties containing dilapidated buildings will be redeveloped as mixed-use properties with commercial uses on the first floor and residential uses above. A new harbor walk and a view corridor are part of the design which aims to provide the community with public access to the harbor.
Starting out in the construction business, who or what empowered you? My daughters. I went to college and graduate school as a mom. I had to succeed for them. I had to show them that they could achieve their goals regardless of the challenges. Even if, and especially, if they seemed insurmountable.
Within your firm, who has helped you succeed within the industry? How have they helped you? John Cavanaro. He employed me in the middle of a recession.
When you're not busy, what is your go to book or podcast to help you unwind? Varied history or science books, i.e. Code Breaker, Sapiens, Team of Rivals, The Path Between The Seas, The Floor of Heaven, Aviators, The Immortal Life of Henrietta Lacks, Devil in the White City, 1776, etc.
What tips or advice would you offer to other women who are considering entering the construction industry? Teach yourself. Don't count or wait for other to teach you.