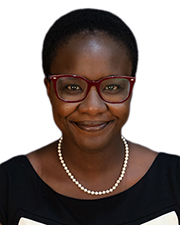 What was your greatest professional achievement or most notable project in the last 12 months? I feel incredibly honored to have this opportunity to build on the diversity efforts that Fontaine began to implement. Getting to work with the entire team as we work with our project partners to create a more diverse workforce and help introduce new folx, especially those from historically underrepresented backgrounds, is really motivating. It's an exciting time and we have a unique opportunity to transform our industry.
When you're not busy, what is your go to book or podcast to help you unwind? I do not have go to book per se, but I started journaling a few months ago, and that has really helped me to start recognizing and focusing on the small (and big) joys in my life that I tend to overlook, especially during those busy times. I actually look forward to writing an entry each night. And if I'm too tired, that's OK, I just do it the following night. Highly recommend.
Within your firm, who has helped you succeed within the industry? How have they helped you? Every single person at Fontaine has been incredibly supportive of me as I settled into this role. Folx took the time to answer every small and silly question I have, including me in as many meetings as possible and sending along any professional development opportunities that will help me learn more about the industry. I am so lucky and happy to be part of this team.