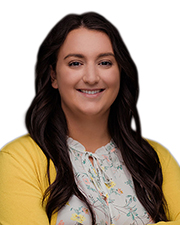 What was your greatest professional achievement or most notable project in the last 12 months? Shake Shack in Danbury, CT was one of my most notable projects within the last 12 months. It pushed me to take on more project manager responsibilities and allowed me to see ground-up construction of a restaurant which I had never done before.
Within your firm, who has helped you succeed within the industry? How have they helped you? Most recently, I have begun working with BJ Whennen, and she has become a great role model and mentor to me. She has helped me elevate my skills in the subcontractor buy-out process and owner and landlord communications.
Starting out in the construction business, who or what empowered you? The drive to learn something new each day has empowered me. Construction is constantly moving and changing and gives excellent opportunities to grow and learn something new each day. Starting with no construction knowledge as an intern, I felt like I was always playing catch up. I took time to reflect after a long day and pushed myself to look at my gaps as an opportunity to absorb new skills and info like a sponge.
I will continue to look forward to learning something new each day!
When you're not busy, what is your go-to book or podcast to help you unwind? My go-to podcast to help me unwind is The Morning Toast. A new episode each weekday covers the daily entertainment news that I listen to on my way home from the office or site to catch up.