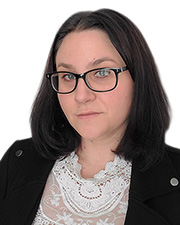 What was your greatest professional achievement or most notable project in the last 12 months? The completion of Larsen & Toubro Infotech's new space in the Phoenix building. Planning for such a unique building was challenging, but everything came together, and my client is incredibly happy. LTI's new space focuses on flexibility for the users and creates a sense of energy from the moment you walk in.
Within your firm, who has helped you succeed within the industry? How have they helped you? The principles at CHK Architects have been tremendously supportive and encouraging of me. They have nominated me for several great leadership development programs, and fully support continued learning and growth for everyone on the team.
What tips or advice would you offer to other women who are considering entering the construction industry? My best pieces of advice for women entering the construction industry would be to stay patient and learn from each experience. Often the path to your 'ideal' position is not a straight one, be patient with the detours and learn from them. Mostly, be patient with your self – there are so many nuances in this field that it's impossible to know everything. Focus on what you do know, learn about things as you grow, and build a network of reliable contacts to help with the rest.