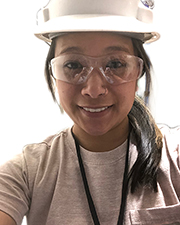 When you're not busy, what is your go to book or podcast to help you unwind? The most recent book that I read was Can't Hurt Me by David Goggins.
Within your firm, who has helped you succeed within the industry? How have they helped you? My forman, who I have worked with for most of my apprenticeship, has helped me to succeed within the industry. He is very knowledgeable of our trade and never fails to teach me new things and is always pushing me to challenge myself at work. When I am unsure of how to do something, he makes sure to go into detail of how to do it and always has helpful tips. Working with someone who always has a positive attitude, patience, and solutions is a huge part of helping me enjoy what I do. He is supportive and wants all the apprentices that he works with to succeed.
What tips or advice would you offer to other women who are considering entering the construction industry? For women who are considering entering the construction industry, I would tell them to go for it. It was the best choice I ever made. It helps build confidence and teamwork skills. My first day on a jobsite was like a whole new world for me but to see all the trades working together to complete a project is a very satisfying feeling and makes me proud to be a union worker working side by side with them all.