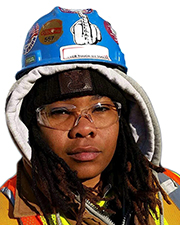 Why should women consider a career in construction? More and more women are joining the trades, paving the way for other women and little girls to see we are just as capable of performing the same duties as men. The world is changing.
Starting out in the construction business, who or what empowered you? My first job I was so green. Didn't know the difference between a screw and a nail. My drywall partner pulled me to the side and said, "Listen ya doing great. No one knows everything and there are a million ways to do the same thing." Then he taught me the difference. That has helped me get through challenging days. Keeping me grounded and focused, also reminding me no one is perfect and I got this.
What tips or advice would you offer to other women who are considering entering the construction industry? Some advice I would give is to definitely join the trades. There's really no reason not to. Its for the strong. Come to work and kill it. The reward is looking back at what you have done and saying I had part in that. I did that.