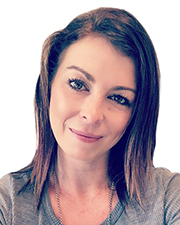 When you're not busy, what is your go to book or podcast to help you unwind? I enjoy listening to several podcasts GaryVee, Joe Rogan Experience, and several others.
Starting out in the construction business, who or what empowered you? When I started working at Haynes Group, I had zero construction experience. I was hired as a receptionist to do misc. daily office tasks. I remember feeling so lost not having the slightest clue as to what anyone was talking about. Fast forward almost 10 years and it is empowering to realize how much I have learned about the industry and the daily operations of construction management.
Within your firm, who has helped you succeed within the industry? How have they helped you? I honestly don't think there is any one person that has helped me more then another. All of my co-workers have been a valuable part in my growth and success. From the field crews working with me to explain how things work to the office team teaching me how to assist in estimating & project management everyone here is always willing to help educate you and share their knowledge as long as you are willing to ask the question.
What tips or advice would you offer to other women who are considering entering the construction industry? There is so much the construction industry has to offer, don't be afraid to jump in and get your hands dirty learning something new.