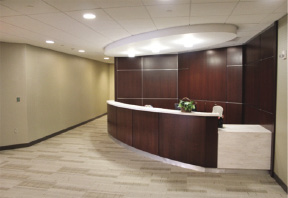 The Thomas P. O'Neill Federal Building - Boston, MA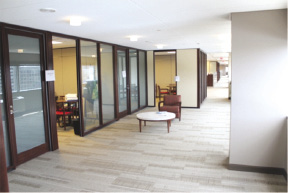 The Thomas P. O'Neill Federal Building - Boston, MA
Williams Building Company of West Yarmouth, Mass. has been awarded the Massachusetts Associated Builders and Contractors (ABC) highest awards for their recently completed project renovating the 10th and 11th floors of The Thomas P. O'Neill Federal Building.
The awards are ABC's Eagle Award for excellence in construction and ABC's Green award for excellence in sustainability and energy efficiency.
Designed by BBIX Architects, this project was the pilot project for a national General Services Administration (GSA) renovation effort utilizing new technologies. The 42,000 s/f of renovated space will utilize many programmable energy systems including auto dimmable lighting, Lutron auto shade systems and switchable glass.
This is one of the first project to achieve LEED Gold at The O'Neill Building.
Williams performed this work in four phases with minimal interruption to GSA's daily operations.
The project team included:
* General Contractor: Williams Building Co., Inc.
* Owner: General Services Administration
* Architect: BBIX, L.L.C.
* Plumbing & Mechanical Contractors: Maguire Company, Inc.
* Electrical: Brattan Industries, Inc.
* Carpet, Tile, Rubber: Lincoln Floor Design
* Fire Protection: Xcel Fire Protection Co., Inc.
* Movers: William Lowe & Sons Movers Corp.