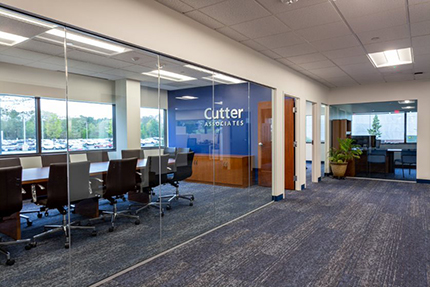 Rockland, MA Acella Construction Corp. has completed a major renovation project for Cutter Associates, a research and consulting firm.
The project involved complete renovation of a 6,498 s/f first-floor office space at 1050 Hingham St., yielding two conference rooms, an employee café, technology rooms for video conferencing, six private offices and 25 workstations; the workstations were from Kimball International, provided by Strategic Spaces. HVAC upgrade, new ceiling tiles and grid, carpeting and light fixtures completed the project. Acella also updated the sprinkler system and controls for the suite.
The property is owned by A.W. Perry, a privately held real estate firm. Sierra Architects served as architect of record for the project with MEP consulting provided by C3.
The renovation is the second construction project Acella has conducted for A.W. Perry in the 1050 Hingham St. building, having recently completed a build-out project for Merit Medical Systems, Inc.
"Acella did such a great job on Merit Medical that we knew their talented team would do equally excellent work with the Cutter Associates project," said Kerri Spurr Gallaway, senior vice president/portfolio asset manager with A.W. Perry. "It was a pleasure to work on this complete renovation project and we are delighted the need for expanded office space is due to Cutter Associates' growth," said Ryan LaVangie, vice president of sales and marketing for Acella Const. "We appreciated the opportunity to again partner with A.W. Perry."