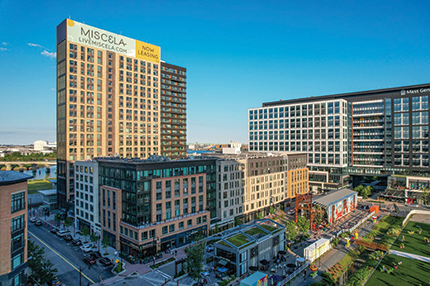 Somerville, MA Assembly Row, the city's mixed-use neighborhood, welcomes new local and national brands this fall as part of Phase 3 of the development. National destination shops including Lululemon Pop-Up, Madison Reed, Purple, and Vineyard Vines Outlet join Boston-area favorites Union Square Donuts, Sav-Mor Spirits and Juicygreens planning for openings in the next few months.
At FITROW, the property's dedicated fitness hub, SweatHouz is opening an elevated infrared sauna experience in its first Massachusetts location. Additionally, Ashley Furniture is moving into Assembly Row Marketplace to expand the destination's home decor offerings.
"Assembly Row continues to attract the best of both local and national brands to create a vibrant experience for our residents, employees, neighbors and visitors," said David Middleton, general manager for Federal Realty at Assembly Row. "These exciting new offerings further demonstrate how the neighborhood delivers for all of our audiences and will draw diverse concepts in years ahead."
As Phase 3 nears completion, openings have also included 455 Grand Union Blvd., an office tower which is home to PUMA's North American headquarters, and the 500-unit Miscela luxury apartment community. These two buildings also have brought new outposts for CVS, sweetgreen, Shake Shack and Warby Parker to the neighborhood.