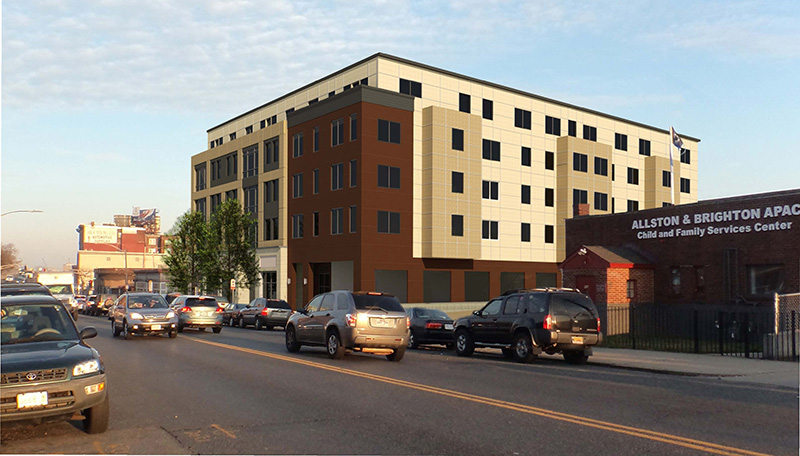 Allston, MA Boston Realty Advisors arranged $33.152 million in debt financing on two properties, a 32-unit Allston apartment building with retail on the ground floor and a 102-unit Marlborough, Mass. manufactured housing property. The two recent debt placements, one of them on a property purchased by The Broadway Company, an affiliate of Boston Realty Advisors, represent a growing area of business for Boston Realty Advisors, now expanding in several commercial and residential real estate categories and in its 22nd year of existence.
Boston Realty Advisors arranged financing for the Legend Development Group, Inc. on 392 Cambridge St. in Allston, new apartments with a Chinese-style restaurant on the first floor. The loan was with First Republic Bank and was for $16 million. Nicholas Herz, managing director and partner of the Capital Markets Group of Boston Realty Advisors handled the transaction for the owner. The building is a mix of two-bedroom, two-bath units and one-bedroom apartments. It began leasing in April 2021 and was fully occupied four months later.
Boston Realty Advisors also recently arranged permanent financing on Marlboro Village, a fully occupied 102-pad manufactured housing community in Marlborough, on a 12.8-acre site 31 miles from Downtown Boston. The Broadway Company recently purchased the residential community for $17.152 million. Boston Realty Advisors assisted The Broadway Company in securing financing from Brookline Bank for $11.150 million.
"They did an excellent job," said Jason Weissman, Founder and Senior Partner of Boston Realty Advisors, said of the Capital Markets Group team. "They went to market and got a great product that aligned with our business plan."
Tana Weissman is Principal and Chief Operating Office of The Broadway Company. "The goal of our manufactured-housing initiative is to create and preserve quality affordable housing," she said after the Marlboro Village closing. "Through sustainable management practices and acquiring in key markets, we are able to achieve this goal.