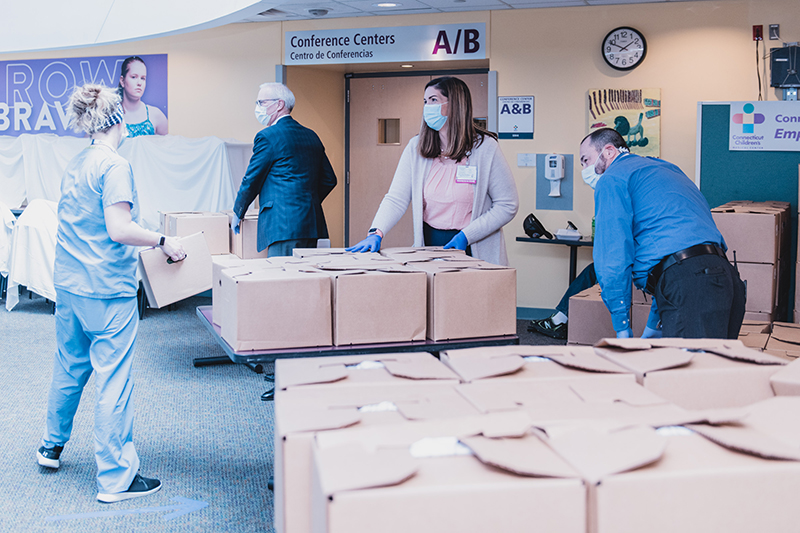 Middletown, CT With two of its niche markets hit the hardest by COVID-19, C.E. Floyd Company, a general contractor and construction manager, knew it wanted to help. When one of the company's senior living clients put out a call for snack donations, C.E. Floyd jumped at the opportunity. The company then reached out to other senior living clients and offered to donate snacks to their staff too. The donations help show appreciation for, and spread joy to the clients' hardworking staff.
C.E. Floyd has also supported Connecticut Children's and The Hospital of Central Connecticut by donating over 200 boxes of fresh produce to each organization via the Produce Alliance Foundations' Produce Box Project: Nourish Our Frontlines.
Alyssa Horrall, director of corporate relations at Connecticut Children's expressed their appreciation, "On behalf of Connecticut Children's, we are truly grateful to C.E. Floyd Company for donating produce boxes to our team members! Your kindness provided encouragement, boosted morale, and allowed team members to bring home fresh healthy food for themselves and their families."
In addition to giving back to its clients C.E. Floyd also recognized the importance of supporting the local communities in Massachusetts and Connecticut with monetary donations to the Greater Boston Food Bank, Connecticut Food Bank and other healthcare clients.
These measures reaffirm the company's commitment to its corporate vision of "Building Visions and People" by ensuring its clients that C.E. Floyd remains dedicated to partnership, even in times of uncertainty.