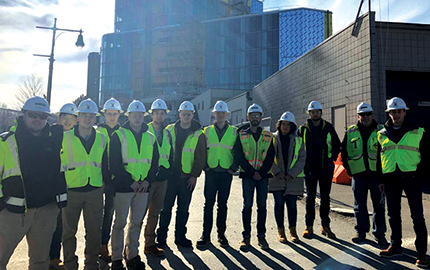 Brookline, MA Callahan Construction Managers (Callahan) hosted students from Wentworth Institute for Technology's (WIT) Construction Management Club on a tour of the Hilton Garden Inn construction site.
Callahan officials hosted the visit, first providing students with an overview of the project and detailing its unique challenges. Students were then guided through an intimate tour of the construction site. The tour was co-led by a WIT construction management student, who is currently a co-op on the project. The students witnessed crews installing elevators and drywall and pouring concrete stairs.
"Callahan is committed to providing educational opportunities for students in the trades," said Patrick Callahan, president of Callahan Construction Managers. "These students are the future of our industry, and it's important we provide learning opportunities as construction continues to see major labor shortages. We hope our tours inspire students interested in construction management."
Students learned how Callahan is using technology to complete the project. Project officials explained how the 3D coordination model is being used and integrated with other building systems. Students enjoyed the tour because it allowed them to apply the lessons they've learned in school.
"The CM club extends a great thanks to all of the folks at Callahan Construction Managers for taking the time to schedule and host the tour," said Jim McLean, a construction management student at WIT. "Our club would never be able to provide such interesting opportunities without the industry support from companies like Callahan. We look forward to more partnership with Callahan in the future!"
Located at 700 Brookline Ave., the 11-story Hilton Garden Inn will have 174 rooms and is near the Longwood Medical area one block to the Riverway T Station. The Hilton Garden Inn is set to open this fall.