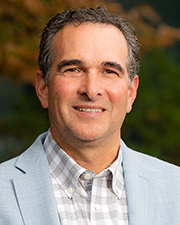 North Reading, MA Columbia has promoted Bill Olson to vice president | life sciences. Olson, who joined the Columbia team in 2021, previously served as senior director| life sciences.
"Bill has a proactive mindset, a deep understanding of client needs, and a thoughtful and informed approach to construction," said Columbia president Shaun Lover. "In addition to those qualities, his ability to lead with respect and positive energy make him a natural fit for his new role."
With more than 25 years' experience in both architecture and construction, Olson understands the many disparate elements involved in successful life sciences construction. His approach emphasizes the preconstruction process, where he works with project partners to develop strategies to elevate outcomes while adhering to budgets and deadlines.
"Columbia's portfolio of accomplishments within the life sciences is noteworthy, and I was thrilled to re-join them a year ago," said Olson.
"Our clients in this sector are tremendously accomplished, and this region is one of the world's major hubs for their life saving work. I'm honored to work with my Columbia colleagues to deliver the innovative workspaces that these leaders need."